Ukraine needs external security guarantees, the most effective of which is joining NATO - Secretary of the National Security and Defence Council of Ukraine Oleksiy Danilov at the International Security Forum in Halifax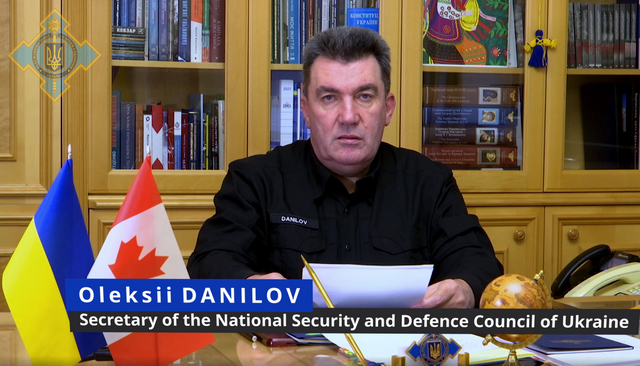 Dear ladies and gentlemen,
I thank you for the opportunity to address this distinguished gathering.
Ukraine is facing an existential challenge. President of Ukraine Volodymyr Zelenskyy clearly determines our strategical goal that is preserving the state and the people, ensuring the nation's development and growth in the welfare of the people.
Along this path, Ukraine will be facing a plenty of threats, challenges and problems.
The top priority is to de-occupy the whole territory of Ukraine in its borders as of 1991, and protect it against a recurrence of aggression in the future.
The nature of combat actions on the frontline is changing. Purely military measures are not enough to achieve the goals set. Holistic approach is needed that would include mutually reconciled measures in military, political, economic, financial, industrial, technological, diplomatic, social and humanitarian sectors, etc.
We are aware of the difference in the goals of Ukraine and some Western partners with regard to Crimea. Crimea is Pandora's box in the sense of illegal annexation of another's territory. The matter of return of Crimea is a status matter for the world order, a litmus test for the West and a test for Ukraine.
It is necessary for Ukraine to regain the status of a maritime nation, and develop all the inherent components. It is about restoring free navigation, expanding maritime transport links for the benefit of the economy and exports, in particular within the framework of ensuring international food security, development of shipbuilding, formation of modern navy and merchant marine.
Ukraine will need enhanced military and technical, as well as financial and economical, support from its Western partners. At the same time, it is necessary to change the approach to providing assistance in a dosed, limited and untimely manner.
Ukraine needs external security guarantees, the most effective, but not the only and exclusive, of which is to join NATO. After the war, Ukraine is willing to take its rightful place in the new architecture of European and global security. At that, Ukraine is ready to play the role of a responsible participant, a contributor (not a consumer), a reliable partner within the civilised world that is based on rules and democratic values. Ukraine should become a striking example of a high-tech country.
Crucially, it is important to move clearly towards the implementation of the Peace Formula of President of Ukraine Volodymyr Zelenskyy.
Work with Ukrainian society is extremely important too, as russia came back to the idea to destabilise Ukraine from within using russian Fronde, influence agents, disinformation.
It is crucial to end political disputes and speculations around elections, and to unite the elites. This is exactly what the actions of President of Ukraine Volodymyr Zelenskyy are aimed at. He needs support, also from the partners.
Ukraine's financial, social and economic survivability in 2024-2025 stands in need of national and international consolidation.
Ukrainian authorities stepped up anti-corruption efforts and work on creation of favourable business climate and war risks insurance. As a result, even amidst the war, Ukraine is already a subject of economic and investment interest from companies all over the world. For example, the United States, Germany, Italy, Turkey are already considering localisation of their own production facilities in the territory of Ukraine, first of all in defence sector. We urge our other partners as well not to wait until the end of the war in this regard.
The post-war period will be marked with the need to address the highly challenging problems of the transition period to peaceful life. Top priorities are restoring the infrastructure and economy, overcoming the humanitarian and demographic crisis, restoring the war-torn environment, enhancing capabilities of state institutions, developing a political nation, and a lot of other tasks. It is also about reintegration of the de-occupied territories, internally displaced persons and refugees, demobilisation and socialisation of combat veterans.
Equally important is the state's fulfilment of new demands from the society. Ukrainian people will not allow to impose the old way of life on them. Ukraine will have a strong public demand and the relevant willingness to make drastic changes.
The solution is a radical national transformation of post-war Ukraine with the help of its partners in investment into the "Global Project Ukraine" on an ultra-large scale, and the creation of the entire turnkey systems.
Incredible support for us on this path is progress towards the EU membership. It makes the basis for implementation of the relevant regulatory frames, standards of state regulation based on the rule of law, transparency and accountability of the authorities. However, in the context of the EU membership, Ukraine has more ambitious goals of not being a second-tier agricultural country, but instead becoming an Eastern European technological, industrial and logistics hub.
In general, the agenda includes the matter of changing approaches to thinking and strategising in Ukraine, as well as introducing new philosophy of state regulation and public life in whole.
Dear ladies and gentlemen,
russia's strategic goals are absolutely polar to Ukraine's goals. russia pursues a goal to destroy Ukraine as a state, and take over the Ukrainian ethnic group as a part of the "Russkiy Mir".
The kremlin is not going to refuse this goal. It braces itself for a long war. russia has managed to adapt, and constantly injects funds into its defence sector. russia proved to be more resilient to the West's sanctions, as expected. russia is increasingly putting its economy on a war footing. Total mobilisation may follow the 2024 presidential elections.
Having developed with the help of the West within the global governance system, russia has been systematically and persistently destroying the world order since 2008, neglecting core norms, rules, and international acts. It culminated in annexation of Crimea in 2014 and full-scale invasion in Ukraine in 2022. Since 2014, russia has violated approximately 400 international treaties, inter alia the Budapest Memorandum, the United Nations Charter, a number of the UN conventions, and the Helsinki Accords.
17 March 2024 – that means presidential elections in russia – is a milestone date for the kremlin. After putin's another enthronement, the regime will be anchored that basically means giving it a free hand. That is why Ukraine and the global community have 3-4 months to prepare relevantly.
russia's real future is ambiguous and blurred, but in its current imperial form, it will constitute a threat for its neighbours, for Europe, for the world order. We believe that the most effective way to prevent repeated aggression is controlled decomposition of russia into several parts, as russia's collapse will automatically lead to dismantling of putin's regime, desovereignisation of russian federation, as well as to its denuclearisation and demilitarisation.
I would greatly exaggerate if I said I knew answers to difficult and pertinent questions in terms of russia's fragmentation. What is the plan on minimising nuclear risks, non-proliferation of biological, chemical and other weapons of mass destruction? How to deal with refugee flows in case of russia's entrance into a civil war situation? What should be a political strategy of the interaction with new territorial entities within russia? Both answers and solutions to these questions should be found by joint efforts and in the very near future.
Ukraine is concerned that some partners have raised discussions about the necessity to negotiate, consult and meet with russians to discuss the war issues in Ukraine, ceasefire, etc. All this stems from a rudimentary fear of russia. It is not something to be afraid of, as Ukraine has proved. Instead, the democratic world should give a "tough response" as russia understands only the language of force. Speaking of Ukrainians' fight, as said President of Ukraine Volodymyr Zelenskyy: "You cannot get fatigued of fighting for your life".
We also have a clear-eyed assessment of global processes.
The world is experiencing turbulence. Geopolitical competition between Washington and Beijing is growing. There are increasing messages about new world order, multipolar world, etc.
In a broader sense, it is about a struggle between democracy and tyranny. russia constitutes a threat to Ukraine. China constitutes a threat to the United States. Alliance of China, russia and Iran is a challenge for the whole world. Unless West changes its attitude to russia, unless there are changes in russia from within, a new "axis of evil" awaits the world in 15-20 years. This axis will include not only DPRK, China, Iran and russia, but also some European countries.
Events in the Middle East, internal political situation in the United States and some other Western states affect the support of Ukraine. We assume that Ukraine will face a challenging situation on the external track. Focus on Ukraine may be falling due to forecast conflicts in the Middle East, the Balkans, the Caucasus, Central Asia, around the Arctic, as well as conflicts over resources seizing. The West will feel war fatigue. But we need to work together to consolidate allies and partners for further support of Ukraine.
We commend those brave voices in the West that are demanding their governments to clearly define their national interests in russian-Ukrainian war, specific goals to be achieved, time frames, etc.
Dear ladies and gentlemen,
Ukraine and Ukrainian people will be fighting to the bitter end. We are confident of our victory. We clearly know and declare what victory in war and victory in peace mean to us.
The question is what victory is for the West.
Does the West intend to win its war called geopolitical competition?
Does it intend to stand up for the world which is based on rules and values?
If it is a "yes" answer, our joint victory over russia is a great opportunity to build new Ukraine, new region, as well as to create conditions to make the world safe once again.
The people of Ukraine have consciously made their civilisational choice: it is confirmed by all sociological studies for recent years. We can and we should join new global project of the world order transformation. We understand and analyse the general plan and key trends. There is the only thing we need – recognition of this understanding by our partners, and joint work on the architecture of Ukraine's embedding into this project.
Ukraine has every chance to become the West's strategical partner which will demonstrate the full power of the vitality of democracy and the upholding of universal human values. The West should confirm that it is and remains the First, and victorious Ukraine will serve as a cogent story in the present-day battle between slavery and freedom.
Thank you for your attention!