The draft "Maritime Security Strategy of Ukraine" is being prepared for submission to the NSDC of Ukraine
The interagency working group has finalized the draft "Maritime Security Strategy of Ukraine", a document initiated by President of Ukraine Volodymyr Zelenskyy.
The draft strategy was presented at a meeting of the working group chaired by Secretary of the National Security and Defense Council of Ukraine Oleksiy Danilov on Tuesday.
The strategy has been developed taking into account the current experience of the world's leading maritime powers, the concepts of maritime law scholars. The document takes into consideration the proposals of 16 state bodies, public experts, and business associations. The strategy contains a mechanism for its implementation, coordination and control, specific quantitative and qualitative indicators. It is proposed that its implementation be entrusted to the Cabinet of Ministers of Ukraine.
One of the main goals of the Strategy is to transform Ukraine into an active maritime player in the international arena.
It was noted during the meeting that the problems related to the development of Ukraine as a maritime state were not resolved comprehensively due to a number of external and internal factors. The maritime sector is vulnerable to the full range of threats to maritime security inherent in maritime powers, while Ukraine faces specific threats to national interests.
Apart from Russia's aggressive policy in the Black Sea region, among the main threats to Ukraine's maritime security, the draft Strategy singles out the insufficient effectiveness of maritime security actors and lack of proper level of domestic coordination, the decline of the maritime industry and inland water transport, etc.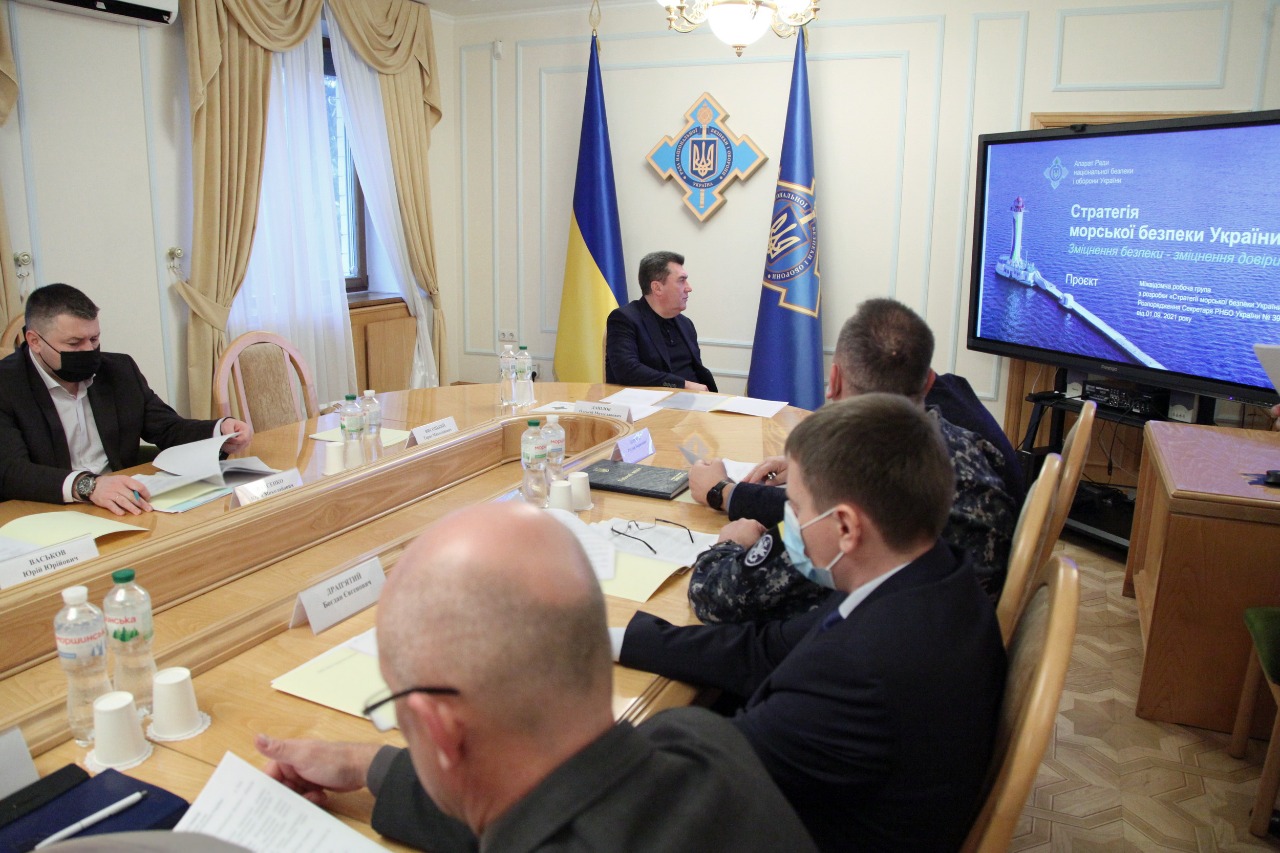 The NSDC Secretary stated that the situation in Ukraine's maritime security necessitates urgent decisions by the NSDC of Ukraine. "Adoption of the Maritime Security Strategy, further coordinated actions of all branches of government and the private sector to implement it will contribute to significant positive changes in the economy and defense, improving the security situation in the Black Sea region", - he said.
The members of the working group supported the draft. After some points are aligned, the final text of the document should be prepared for sending to the President of Ukraine and members of the NSDC of Ukraine.
For reference: Ukraine has the largest length of the sea coast among the countries of the Azov-Black Sea basin (2759,2 km). There are 18 seaports in Ukraine in the Black Sea-Azov basin and the Danube Delta, including 13 in the controlled part of Ukraine and 5 in the temporarily occupied territory of the Autonomous Republic of Crimea.
Part of the European network of the most important inland waterways of international importance runs through Ukraine's territory. Their development is promising for the economy of the Baltic-Black Sea basin.