The International Cybersecurity Forum co-organized by the NCSCC was held in Kyiv
The International Cybersecurity Forum was held in Kyiv. The event was initiated by the Office of the Prosecutor General and co-organized by the National Cybersecurity Coordination Center at the National Security and Defense Council of Ukraine.
The Forum was attended by representatives of the Ministry of Internal Affairs of Ukraine, the Ministry of Digital Transformation of Ukraine, the Security Service of Ukraine, the State Service for Special Communications and Information Protection of Ukraine, experts from more than 20 countries.
Head of the Information Security and Cybersecurity Service of the Staff of NSDC of Ukraine Natalia Tkachuk delivered a report on "Effective Counteraction to Cybercrime as a Strategic Goal for the Development of Ukraine's Cybersecurity Capabilities: Issues of Coordination and Interaction".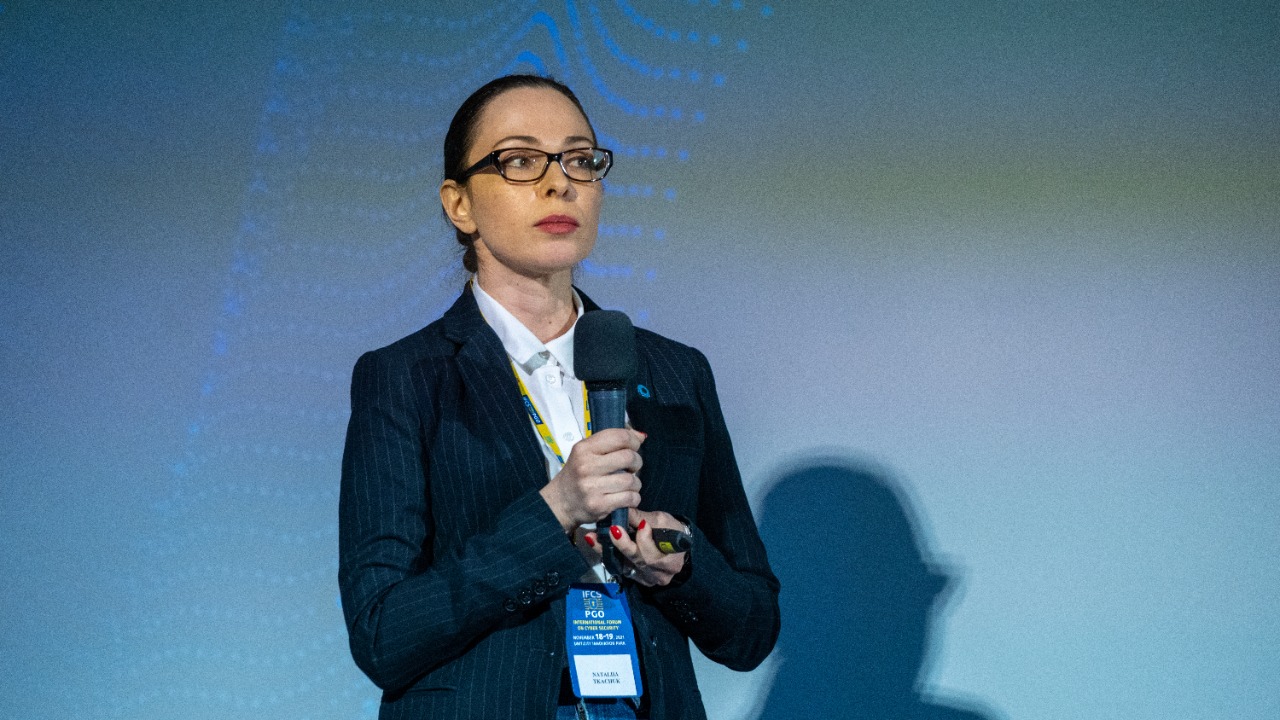 Ms. Tkachuk particularly emphasized the main tasks set by the new Cybersecurity Strategy for law enforcement agencies, noting that work is underway to implement this major document.
Speaking about the threats posed by cybercrime, the Head of the Service stressed that cybercriminals have now become "a tool in the hands of some states, which use them to gain certain advantages in geopolitical conflicts and hybrid wars".
In this context, she noticed that cybercrime is an instrument of Russian hybrid aggression against Ukraine, and the main objects of cyberattacks are public authorities, key information systems of the state, critical infrastructure, etc. "In recent years, we have seen a new model of cyber threats – cyber attacks are used as a tool for Russia's disinformation campaigns against Ukraine", - Ms. Tkachuk added.
The Head of the Service stressed the importance of "not only responding and localizing cyber threats but also investigating cybercrimes". "Today, an effective fight against cybercrime is impossible without international cooperation", - she added.
During the Forum, representatives of Ukrainian and foreign law enforcement agencies discussed the effectiveness of national cybersecurity systems, prevention of online fraud, the role of cybersecurity in the digital state, collective cyber immunity. Representatives of Europol and Eurojust shared their experience in the fight against cybercrime. The issues of cooperation between the Ukrainian competent authorities within the framework of the Cyber-Infrastructure for Civil Protection Operative Procedures (CYCLOPS), the European Cybercrime Network, as well as on the basis of the SIRIUS project (working with electronic evidence across borders) have been worked out.
Following the Forum, the heads of state and law enforcement agencies were recommended to take additional measures to increase the effectiveness of combating cybercrime and protecting state information resources.