Secretary of the NSDC of Ukraine participated in solemn events on the occasion of the Day of Defenders of Ukraine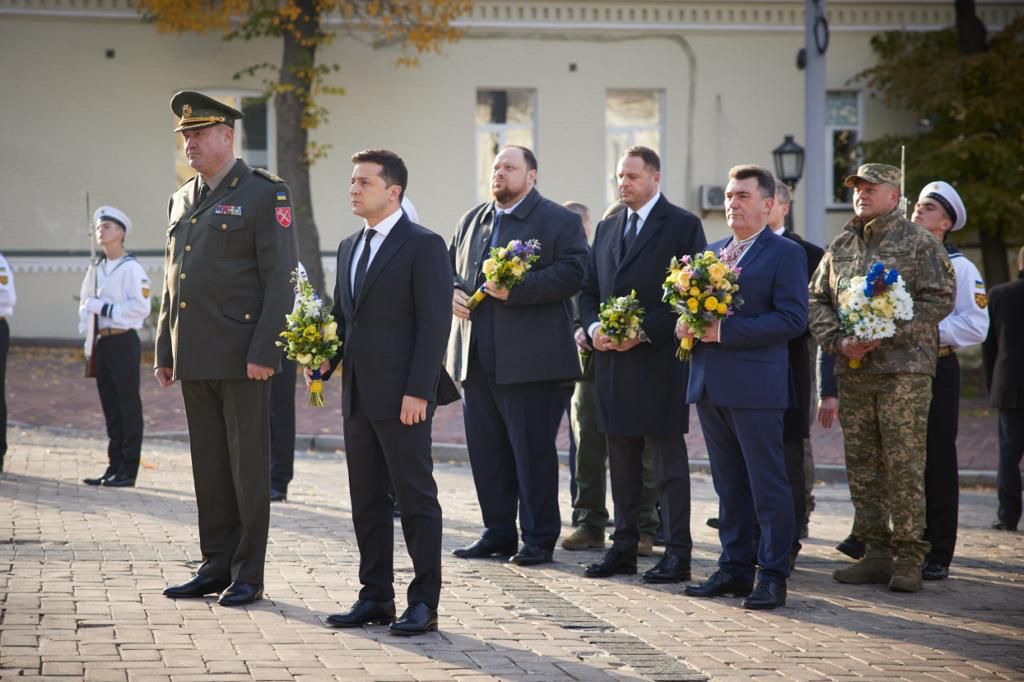 On the occasion of the Day of Defenders of Ukraine, President Volodymyr Zelenskyy took part in a ceremony honoring those fallen for Ukraine, which took place on Mykhailivska Square in Kyiv.
The Head of State laid flowers at the Wall of Remembrance for those who died for our country.
A moment of silence was declared, after which the military orchestra performed the National Anthem of Ukraine.
The warriors of the honor guard saluted with six volleys.
Secretary of the National Security and Defense Council Oleksiy Danilov, Head of the President's Office Andriy Yermak, Chairman of the Verkhovna Rada Ruslan Stefanchuk, Minister of Defense of Ukraine Andriy Taran, Commander-in-Chief of the Armed Forces of Ukraine Valery Zaluzhny, Deputy Head of the Office of the President Roman Mashovets also paid tribute to the deceased.
In addition, on Mykhailivska Square, the Head of State observed samples of modern weaponry and military equipment.
Volodymyr Zelensky was shown reconnaissance, command and communication means, strike and fire means, in particular the Neptune missile system, Stugna anti-aircraft missile system, Agema multi-purpose robotic platform, RSVK-M multi-purpose robotic platform with strike module, Scorpio-2 unmanned robotic platform, strike unmanned aerial vehicles ST-35 Thunder and Skyfist.